Air Conditioning
At the Forge Garage we offer vehicle air conditioning service, maintenance and recharing service for your vehicles air conditioning system.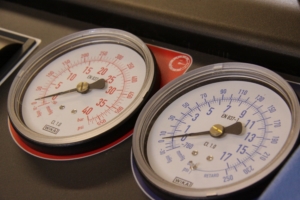 Maintaining a fully working air conditioning system in your car or van requires your air conditioning ro be "recharged" or regassed usually around once a year.
If your air conditioning system in your car is not working properly or not cooling the air satisfactorily your should get the air conditioning checked by a suitably qualified and trained mechanic.
At Forge Garage in Burghfield Common, Berkshire we offer a regasing service for your car or van from &pound 45 (plus vat).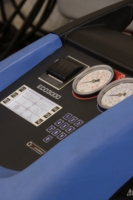 If your car or van's air conditioning has not been serviced for a while or may be suffering a fault lets us check it for you.
The equipment that we use at Forge garage for testing and maintaining vehicle air conditioning has integrated air conditioning system diagnostics including checks for air conditioning leaks and faults.
Our EuroTechnics Eco 3000 can check and diagnose faults or leaks in your car's air conditioning system to help your air conditioning system operate at optimum performance.
Re-Gasing Vehicle Air Conditioning
Regasing or "charging" your vehicles air conditioning system will check your system for leaks or other faults and will get your air conditioning system functioning properly to keep your vehicle cool and maintaining a steady temperature.
Call The Forge Garage on
0118 983 2822
The Forge Garage provide Tyre Services, M.O.T preparation, Repairs and Servicing and are based in Burghfield Common.